The seventh edition of TEDxKlagenfurt took place on 15 June 2019. Over the past years, this event has become one of the most professional conferences within the international TEDx conference community. Renowned speakers and experts from all over the world gathered this year in the capital of Carinthia. Among others, is the 18-year-old astronaut, Alyssa Carson, the most read medium blogger, Ben Hardy, the youngest person to travel to every country in the world, Lexie Alford, the entrepreneur and philosopher Peter Sage and the Vienna-based futurist and keynote speaker Xerxes Voshmgir were invited.
So, we asked Xerxes some questions: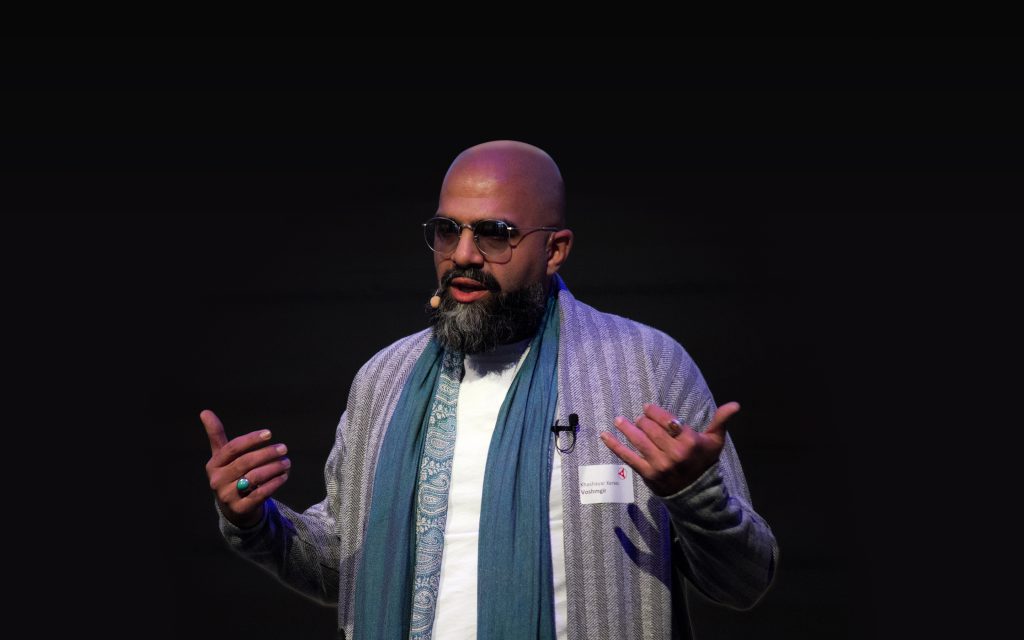 How was it for you to hold the TEDx talk?
Xerxes: It was a unique experience and probably the most stimulating conference I have personally attended so far. The atmosphere was very special from the very first moment. Curator Marko Haschej and his team created this inspiring event in the spirit of the original TED conference here in Austria. In the backstage area, I was able to feel how even the most experienced speakers were a bit nervous and everyone was excited. Our speaker coach, Niki Ernst, emphasized over and over again that as a TEDx speaker you speak to potentially over three billion people. This is not only an honour but also a responsibility. Also, the moment, just before I went on stage, I fully knew of that responsibility. I am passionate about the topics I am talking about and it was one of my most fulfilling moments to talk about our responsibility as humanity on this stage.
You talked about future technologies, the future of humanity and the next revolution. Why is this topic important to you?
Xerxes: We are at a crossroads in the history of mankind. Due to the convergence of future technologies and their rapid development – above all in artificial intelligence, the blockchain, but also neurosciences – and the resulting structural changes to society, and the great ecological and ethical challenges for us as humankind through the ecological crises and technological singularity, it is essential that we recognise that there is no more time to lose. Our ruling systems are still not focussing on maximising purpose but to maximising profit, ultimately exploiting our planet. In reality – as astrophysicist Stephen Hawking has remarked before his death – we must focus on our survival. Otherwise, we will not be around in one hundred years. However, to solve these serious problems it will be necessary to advance to the next stage of human evolution. Besides, without a great leap in consciousness as well as revolution initiated by the civil society, we cannot survive the next 100 years on our planet. It is in our hands what we make of our future. It is in the hands of every single person.
Do you think that your message has resonated with the audience?
Xerxes: The resonance in the room was overwhelming. I didn't expect that. Apparently, I expressed exactly what many people feel like. I hope that my message will also reach many people via video.
What are you planning next?
Xerxes: It is important for me to spread my message further. There are more speeches and different types of forums I will contribute to. I am in the process to create a platform for like-minded people who want to create an impact.
Thank you very much for the interview.
Xerxes: Thank you!
Besides the formal interview questions, Xerxes Voshmgir proved to be an informative and interesting person to talk to. We warmly recommend getting in touch with him via LinkedIn, Twitter, Instagram or Facebook.
---
Interview – Die Wegscheide, an der wir stehen
Am 15. Juni 2019 fand TEDxKlagenfurt in der siebenten Auflage statt. Mittlerweile hat sich die Veranstaltung im internationalen Vergleich der TEDx-Events zu einer der professionellsten Konferenzen etabliert, bei der sich renommierte Speaker und Experten aus aller Welt in der Hauptstadt von Kärnten versammeln. So waren dieses Mal unter anderem die 18-jährige Astronautin Alyssa Carson, der meistgelesene Medium-Blogger, Ben Hardy, die jüngste Person, die alle Länder der Erde bereist hat, Lexie Alford, der Unternehmer und Philosoph Peter Sage und der in Wien lebende Futurist und Keynote Speaker Xerxes Voshmgir eingeladen.
Wir haben Xerxes einige Fragen gestellt:
Wie war es für dich, den TEDx-Talk zu halten?
Xerxes: Es war ein ganz besonderes Erlebnis und vermutlich die spannendste Konferenz, an der ich persönlich bisher teilgenommen habe. Die Stimmung war vom ersten Moment an sehr speziell. Der Kurator Marko Haschej hat mit seinem Team einen inspirierenden Event im Geiste der TED-Konferenz hier in Österreich geschaffen. Im Backstage-Bereich konnte ich fühlen, wie selbst auf die erfahrensten Speaker die Stimmung übergeschwappt ist und alle aufgeregt waren. Unser Speaker-Coach, Niki Ernst, betonte immer wieder in der Vorbereitung, dass man als TEDx-Speaker zu potenziell mehr als drei Milliarden Menschen spricht. Das ist nicht nur eine Ehre, sondern auch eine Verantwortung. Und in diesem Moment, unmittelbar bevor ich auf die Bühne gegangen bin, war ich mir dieser Verantwortung voll bewusst. Ich brenne innerlich für die Themen, über die ich rede, und es war einer meiner erfüllendsten Momente, auf dieser Bühne über unsere Verantwortung als Menschheit sprechen zu dürfen.
Du hast über Zukunftstechnologien, die Zukunft der Menschheit und die nächste Revolution gesprochen. Was ist dir an diesem Thema wichtig?
Xerxes: Wir stehen an einem Scheidepunkt in der Geschichte der Menschheit. Durch die Konvergenz der Zukunftstechnologien – v. a. der künstlichen Intelligenz, der Blockchain, aber z. B. auch den Neurowissenschaften –, ihrer rasanten Entwicklung und der daraus resultierenden tiefgreifenden Veränderungen für die gesellschaftlichen Strukturen, sowie die großen ökologischen und ethischen Herausforderungen für uns als Menschheit aufgrund der ökologischen Krisen und der technologischen Singularität ist es wesentlich, dass wir erkennen, dass es keine Zeit mehr zu verlieren gibt. Unsere herrschenden Systeme sind weiterhin nicht auf Sinnmaximierung, sondern auf Profitmaximierung und letztlich auf die Ausbeutung des Planeten ausgerichtet, während es in Wirklichkeit längst darum geht – wie auch schon Astrophysiker Stephen Hawking meinte –, wie und dass wir als Menschheit die nächsten hundert Jahre überleben. Um diese schwerwiegenden Probleme zu lösen, wird es notwendig sein, auf die nächste Stufe der menschlichen Evolution aufzusteigen. Ohne einen großen Sprung im Bewusstsein und Handeln sowie eine zivilgesellschaftliche Revolution werden wir die nächsten 100 Jahre auf unserem Planeten nicht überleben können. Es liegt in unserer Hand, was wir aus unserer Zukunft machen. Es liegt in der Hand jeder einzelnen Person.
Glaubst du, dass deine Botschaft angekommen ist, und wie waren die Rückmeldungen auf deine Rede?
Xerxes: Die Resonanz im Raum war überwältigend. Das hatte ich in dieser Form nicht erwartet. Scheinbar habe ich bei der Konferenz vielen aus der Seele gesprochen. Ich hoffe, dass meine Message auch per Video viele Menschen erreichen wird.
Was planst du als Nächstes?
Xerxes: Mir ist es wichtig, meine Botschaften weiter zu verbreiten, und im Rahmen dessen ist neben weiteren Reden und unterschiedlichen Foren einiges geplant; u. a. möchte ich eine Plattform für Gleichgesinnte schaffen.
Vielen Dank für diesen Einblick.
Xerxes: Ich danke!
Auch abseits der formalen Interviewfragen erweist sich Xerxes Voshmgir als gesprächsfreudiger und interessanter Gesprächspartner. Wir können wärmstens empfehlen, sich mit ihm via LinkedIn, Twitter, Instagram oder Facebook in Verbindung zu setzen.