The second year in a row Hands off the Wall offers a platform for women in street art and graffiti on Sunday 7th of July 2019 at Yppenplatz, 1160 Vienna. It is a festival bringing together female artists from around the globe and celebrating another yearly communion of like-minded creative people. Giving women a chance in an often male-dominated art-scene is most central to Hands off the Wall.
"You finally meet other female street artists. Over time you get to know each other, and that is a wonderful feeling." [transl.] – Linda, Rip Off Crew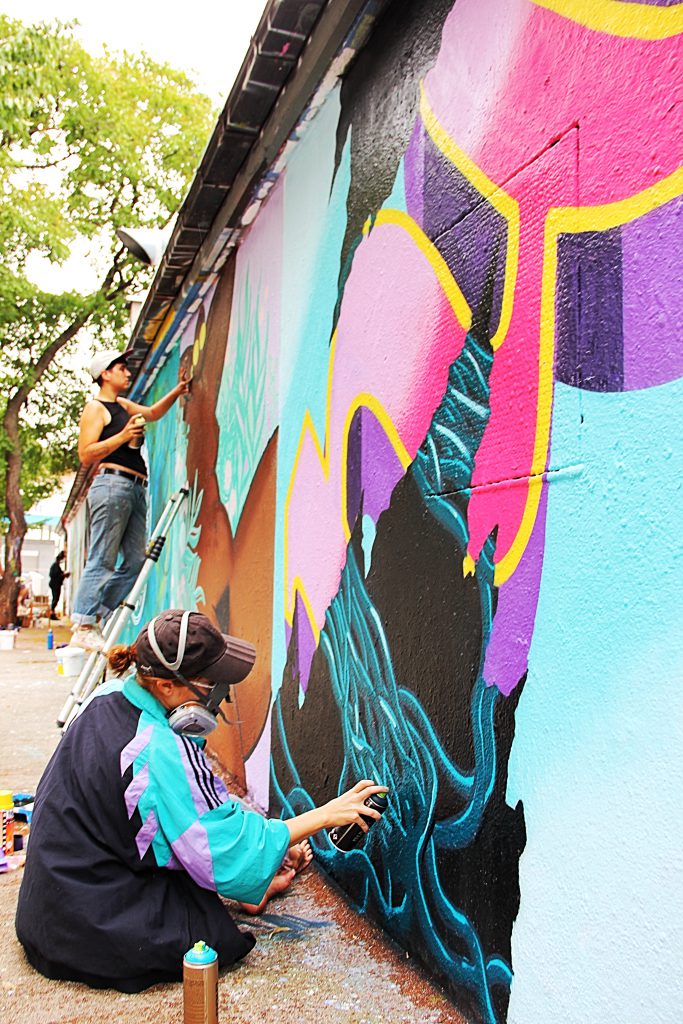 Chinagirl Tile, organizer of the event, contributes a sprayed piece herself, introducing a second important theme of this year's communion – sustainability – and giving thanks to Altstoff Recycling Austria (ARA), this year's main sponsor. She says: "We try to raise awareness for the topic of recycling, because it is an important step, that everybody can do, to sustainably change our environment" [transl.]. Garbage separation, trash barrels to paint on, two spray-workshops for kids and booklets for them on how to recycle, all contribute to raise awareness on these important social issues.
The city of Vienna offers legal spaces for street art in a project called Wienerwand. All financial resources pour into the event and are used for colors, flights for international artists and almost everything else, so that no additional costs arise for participants. The organizers work on a voluntary basis, putting in a lot of energy, because they love what they do.
Answers from interviews with some of the 22 artists at this year's Hands off the Wall will give an impression of why they were here and sketch out some wider implications for women in arts:
Roos Art is traveling around the world to paint and was happy to take notice of the girls-only jam on Instagram, as she has never been to anything like it: "A jam session is an energy-thing. Everybody is doing it at the same time, but feeding off each other somehow. It is free and expressive, and not really serious, in contrast to a lot of work that can be. So a jam is just like having fun – painting, decorating, hanging out, and this one is really unique, because it's an only girls jam" (Peachzz). It is these kinds of free spaces for women to come together and exhibit their art, which help to bring about a positive change when it comes to gender disparities in art. According to an artnet–study from 2018 –Glass Ceiling in the Market- only 13.7 percent of living artists represented by galleries in Europe and North America are female. While it is difficult to ascertain exact numbers for female street artists Vittorio Parisi finds in his 2015 study that there is a general lack of recognition of women´s role in street art and graffiti.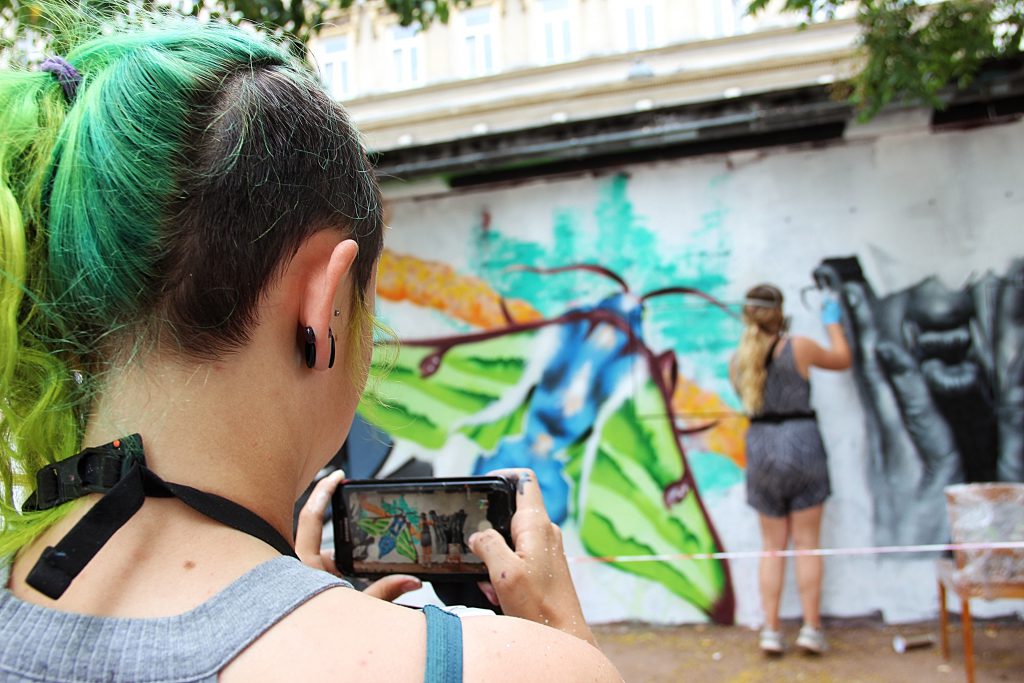 "The reasons for coming here are quite personal for everybody and it's also a global conversation as well. Personally, I can get really tired at galleries, making art for the exclusive elites. Hands off the Wall is a lot more community-driven, a lot more socially engaging and there is a lot more freedom" (Fats Patrol). Peachzz: "In England it is really inclusive. They try to equal everything out. One of my friends argued, why are you going, the situation for girls is already good, but it is not good everywhere, pretty good in England, but not everywhere else, and it's important to do these kinds of things, because it still happens, people not being included, which sucks." Even though enrollment numbers for female art students are about equal to men since the early 1980s, according to the National Museum of Women in the Arts on average; only 30% of artists represented by commercial galleries in the U.S. are women. In Australia; it´s about 40%; in China 25%; and in Germany less than 20%, numbers also change with different research designs.
What we need is a radical rethinking not only of women in art or other gender-related issues, but of ideological preconceptions and prejudice in general, of old habits, of sustainability and of what constitutes a good life. Anne Schinko's contribution about "Schubladendenken" criticizes problems of a narrow mindset, saying: "often times we think in stereotypes and I want to create awareness about generalizations, which we often make subconsciously. We are individuals, and we should reflect upon prejudices and stereotypes" [transl.].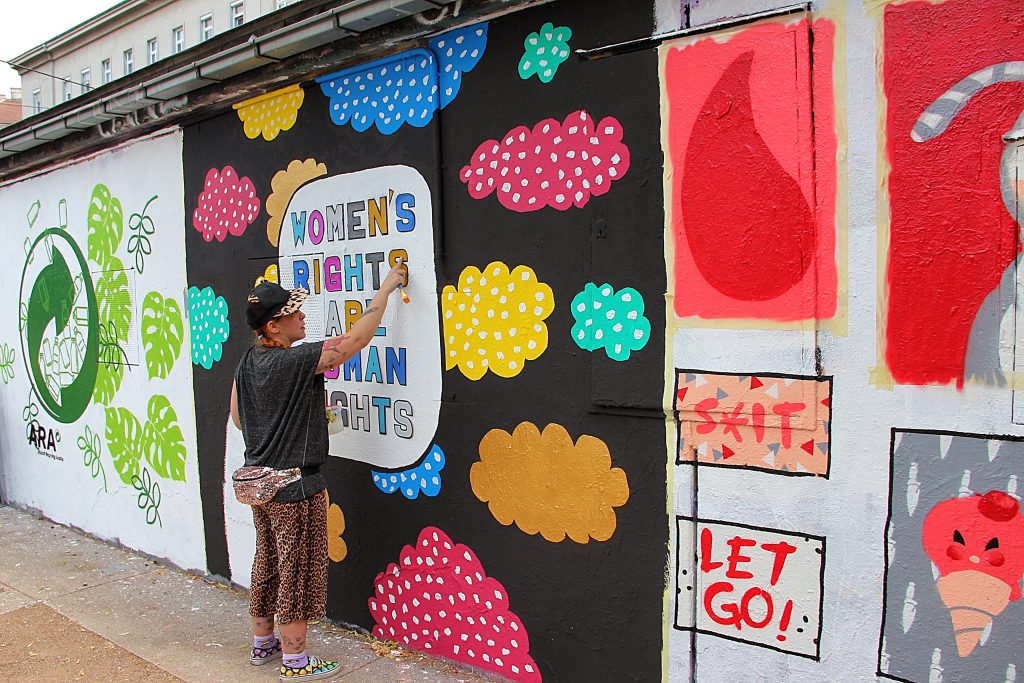 The renowned yet anonymous feminist group Guerrilla Girls, founded 1985 in New York, reframe the question about the role of women in art: Why haven´t there been more great women artists throughout Western history?, and asking instead: Why haven´t more women been considered great artists throughout Western history?
2020 we will see the third promising round of Hands off the Wall, and the organizers call upon all curious female street artists to apply and "just do it" (Chinagirl Tile).
Artist's List Hands off the Wall 2019:
Roos Art * Fats Patrol * Peachzz * Feminist Killjoy * Eulen Heulen * Taina * Eternalmanila * Hello the mushroom * Illunis * Linda Steiner * Nudlmonster * Sarah Lumen Heine * Chinagirl Tile * ViVi Production * Yamuna loves you! * Miscela * Dirtyhands * Velvet Kuntitzky * Anuk * Anne Schinko * 6xa * MiraMushroom
Constantin Coeler, Vienna July 14th 2019